Raw Edged Tweed Jacket with Full Length Sleeve with Italian Techno Stretch Wool Paneling and Leather Fringe Detail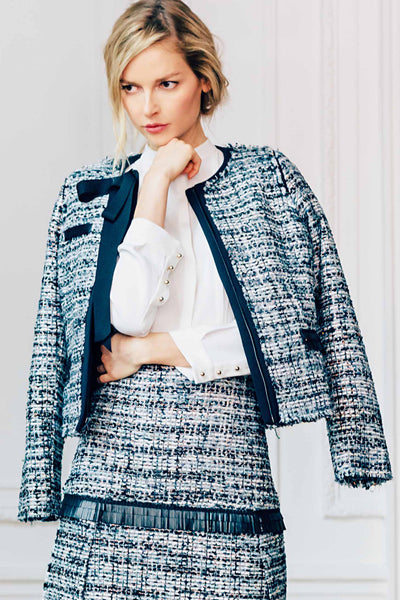 Raw Edged Tweed Jacket with Full Length Sleeve with Italian Techno Stretch Wool Paneling and Leather Fringe Detail
RAW EDGED TWEED JACKET WITH FULL SLEEVE. LEATHER FRINGE AND BOW DETAIL.
MULTI COLORED TWEED WITH COPPER METALLIC THREAD DETAIL
LINED IN 100% SILK.
AS THIS IS A MADE-TO-ORDER PIECE, PLEASE ALLOW 2 TO 4 WEEKS FOR DELIVERY.
ADDITIONAL COLORS ARE AVAILABLE, KINDLY EMAIL INFO@ISOUDE.COM
PLEASE NOTE THESE PRICES ARE READY TO WEAR PRICES.  CUSTOMIZED PATTERNS AND OR FABRICATIONS MAY REQUIRE AN ADDITIONAL CHARGE.